TLDR = quick summary of what's up with Mozilla Webmaker this week.
Open Badges 1.0: coverage, reaction and new demos

The Mozilla blog post tells the story. Plus check out:
¡Aye Caramba! SIX new Webmaker projects this week!
Popcorn for your webcam: help test this new feature
What if you could record directly from your web cam straight into Popcorn Maker? Well  guess what — the future is here! Or rather: the future is ready for testing and bug-filing.
Here's how to play-test it:
Click the "record from webcam button." This loads the You Tube uploader tool.
If you aren't already signed in to a Google account, you'll be prompted to sign in.
Flash will prompt you for access to your webcam. Click Allow or Deny access and leave the tool.
You should now see your webcam feed. Click Start Recording to begin.
Review what you've recorded, or click Upload to upload to You Tube.
Once uploaded, You Tube will take some time processing and converting the video.
Once done, You Tube will give Popcorn Maker the link to your newly uploaded video and added it to your media gallery, ready to be Popcorn-ized!
Report bugs or make suggestions here. More context and a full HOW TO is here.
#teachtheweb
The idea is simple: use the hashtag #teachtheweb to ask for and offer help. For mentors, instructors, and anyone interested in helping to teach digital literacy and webmaking. For example:
"I'm looking for someone to help teach Javascript at a webmaking event in Athens. #teachtheweb"
You can also offer help. Say, for example:
"I work with youth at my hackerspace and am happy to share activities they like. #teachtheweb"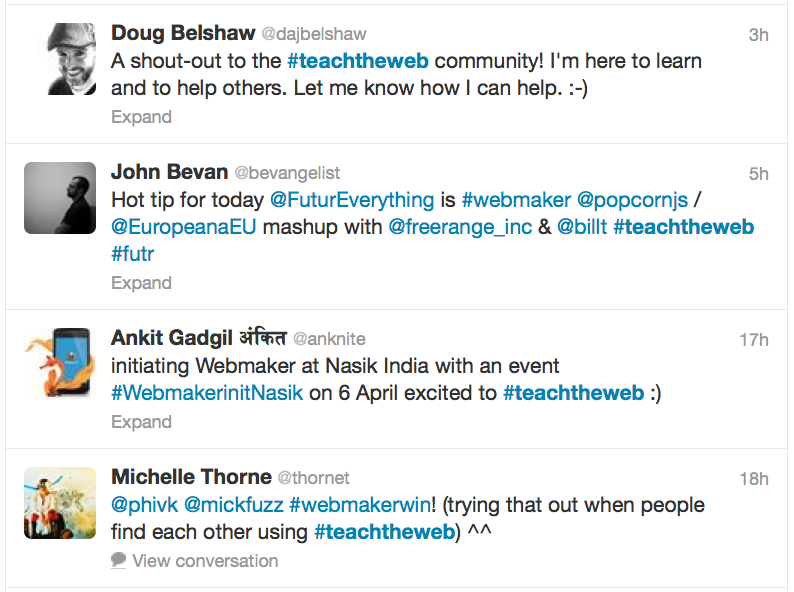 It's not just for event needs or offers — use it for learning resources, inspirational stories, feedback, etc.
Making is Learning: project-based learning in action
It feels efficacious and powerful to make something from nothing. –Chad Sansing, educator
Laura Hilliger made this video about a classroom in Virginia using the project-based approach to teach kids with learning disabilities and difficulty following "traditional" learning paths. Including how they're using Thimble. Inspiring to see these principles in action.
Planet Webmaker roundup