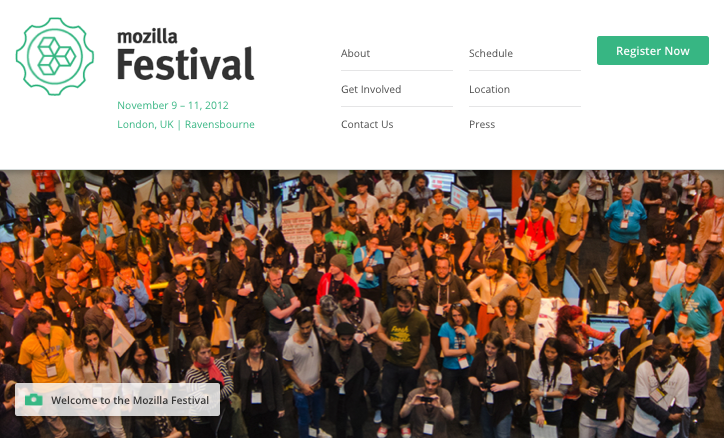 Join us for the Mozilla Festival: Nov 9 – 11
Join us for the 2012 Mozilla Festival: Making, Freedom and the Web
Nov 9 – 11, London, UK
800 developers + designers + educators + youth + journalists + you…
…getting together for three days of design challenges, learning labs and fireside chats…
…to make amazing things that can change the world.
Sound like fun? Register here now.
Mozilla Ignite announces "brainstorming round" winners.
Development round now open.
Yesterday, Mozilla and the National Science Foundation announced eight winning ideas that offer a glimpse of what the internet of the future might look like. Next up: invite developers everywhere to make these and other big ideas a reality.

Summer Code Party wrap-up: submit to the Hall of Fame
The first-ever Summer Code Party is now wrapped up, and was a huge success:
685 Summer Code Party events
spread across 80+ countries
reaching more than 5,305 people
The new Webmaker Hall of Fame provides highlights from the summer, and now needs your contribution. What was the most amazing thing you made or saw this summer? Who inspired you, taught you, or helped you most? Who should the Mozilla Webmaker and Summer Code Party community learn about, or get to know?

A great example of "hackable games"
Tuesday's Webmaker call included a demo from the team at "Craftyy," a web-based remixable game editor — and a great example of the "hackable games" theme at November's Mozilla Festival.

Explaining Webmaker crisply
How do we do it even more simply? And tell a clear story around how it fits with the rest of Mozilla? Mark Surman shares thoughts over coffee.