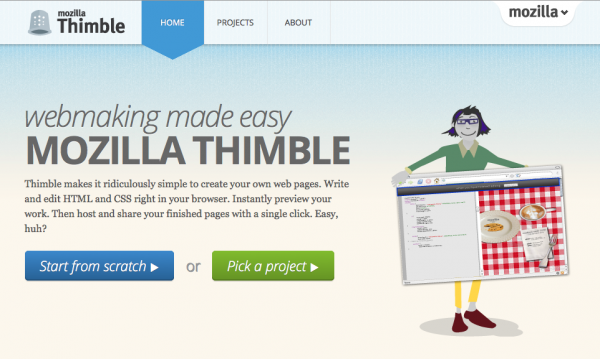 The short version: A server error caused some Thimble web pages created between July 23 and Aug 20 to be accidentally deleted. Unfortunately, despite our best efforts, these pages cannot be recovered. We sincerely apologize for the error, and have taken steps to resolve it. New Thimble projects will not be affected. We hope you will continue making and learning with Thimble, and read on for more details.
Why does my Thimble page seem to be missing?
As you know, two months ago the Mozilla Webmaker team was extremely proud to launch an early version of Thimble, our new app that makes it easy for anyone to create and share their own web pages.
For a first release, the app has been incredibly successful — and we've  been inspired by the response from our community and all the great stuff people are making with it.
So when some of you started reporting that you were having trouble accessing Thimble projects and noticing broken links, we alerted the Thimble software and database teams and asked them to investigate.
Unfortunately, we confirmed yesterday that a server and maintenance error caused some Thimble pages to be deleted. Despite our best efforts, they will not be recoverable. This means that some users will no longer be able to access projects they created and saved with Thimble. If you're one of  the users affected by this, we sincerely apologize. We've identified the issue that caused the data loss and taken steps to correct it. But we're extremely sorry that some users won't be able to recover their projects. We feel awful about it.
What happened?
To make a long story short: a mix of factors (systems error combined with human error) caused us to not have backups of Thimble data from July 23 to Aug 20. We have investigated thoroughly with our database admins, and unfortunately we have confirmed that there is no way to restore the data.
As you know, servers are built by fallible humans, and behind each Thimble URL is a group of well-intentioned people trying to work together. Unfortunately in this case, we made a mistake. And for that we offer a frank mea culpa and commitment to doing better going forward.
Will new Thimble pages be affected by this going forward?
No. We've rectified the problem so that this won't happen again. Thimble is still in the early stages and we still have lots of learning to do. But we have addressed the issues that caused the data loss to minimize the chance of this ever happening again.
Again, please accept our apologies for the error. And feel free to get in touch with us directly about questions or concerns: @OpenMatt or matt at mozillafoundation dot org.