Planet Webmaker: weekly update for April 17, 2012
"Augmenting Amazonia:" sneak peek at Mark Boas' new interactive video

experiment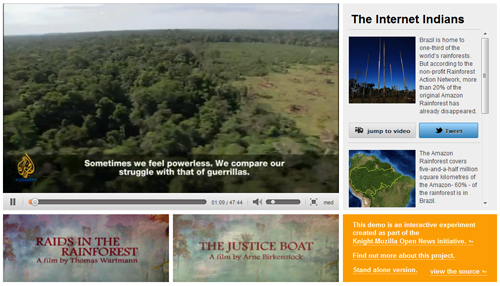 This sneak peek interactive video demo uses Mozilla Popcorn to pull interactive notes and context into a beautiful upcoming documentary about the Amazon. It allows viewers to interact with the video and go deeper into the content in whole new ways, including automatically tweet out specific points on the time code for specific moments you want to share.
We have an opportunity to create unique mechanisms that allow deeper interaction, while at the same time sharing a similar experience. —Mark Boas, Knight-Mozilla News Fellow

One neat trick: the pop-up boxes and links that appear alongside the video are stored directly in a simple Google doc, which makes writing, editing and updating them dead easy.
The project uses Popcorn.js and the new IE8 shim + jPlayer. It will eventually be embedded in the Al Jazeera English web site, but can also be popped out and added to tablet, mobile device or your TV / home-screen. Mark says this is all a primer for a larger project: a new web app to view Al Jazeera English documentaries.
Get involved:
What's the metric that matters most for the Mozilla Webmaker project?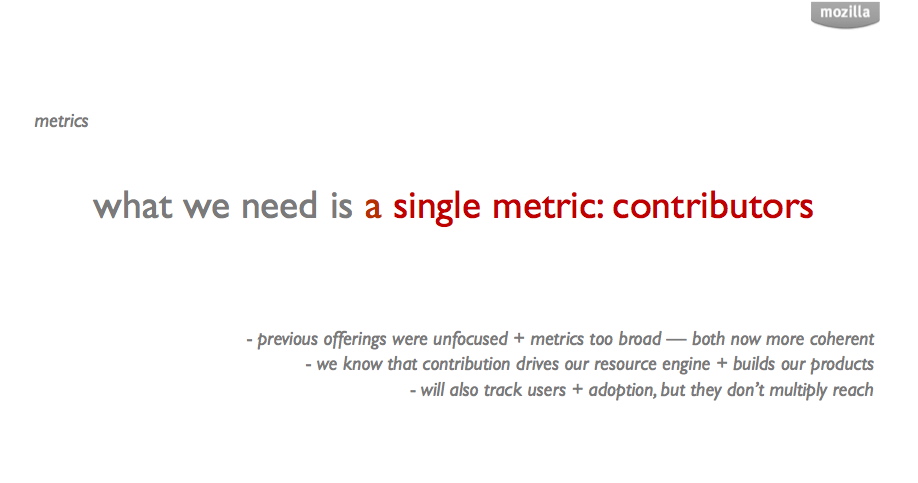 In a nutshell: contribution. How should the Mozilla Webmaker project track and measure success? What are the key metrics? Mark Surman and Ryan Merkley prepared this presentation for Mozilla's Board of Directors last week. The major message: contribution —  in-depth participation from people helping to build a generation of webmakers alongside us — will be the major metric for success.
The new Mozilla Webmaker web site: projects, tools and events for webmakers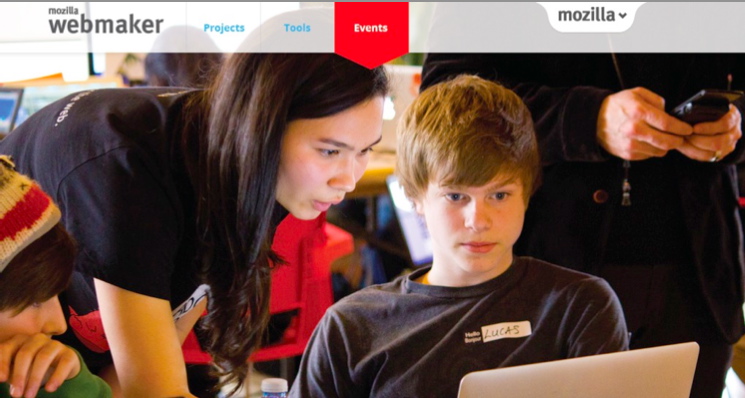 Projects | Tools | Events. The upcoming Mozilla Webmaker web site will focus on these three core areas: projects, tools and events for webmakers.
What do we mean by "projects?" We mean recipe cards, how to's and starter projects for making something amazing. From making your own pop-up video in about five minutes, to designing digital learning badges for NASA, to hacking the future of news documentaries with ninjas like Mark Boas, to tweaking your Tumblr template — while learning a bit of HTML and CSS in the process.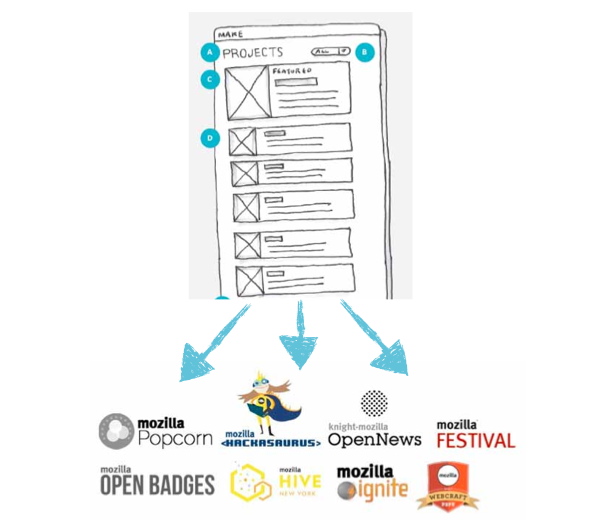 Bite-sized starter projects vs. programs. Individual Mozilla Webmaker programs and standalone web sites will continue to be accessible through a single click from a front-page carousel. But the emphasis of the new projects section will be pulling bite-sized opportunities to make, build or contribute something from across these various silos. Like "MakeProjects.com" for webmakers.

We'd been struggling around what to call the "projects" section. Recipes? Activities? Missions? Learning challenges? Tutorials? How Tos? But when you look at what other sites call this stuff — whether Popular Mechanics or Make Magazine or Little Bits — they all use the same simple telegraphic word: "projects."
Get involved
Knight-Mozilla OpenNews Hackathon in Buenos Aires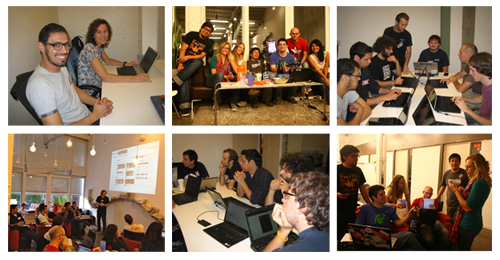 Hackers in Buenos Aires from the OpenNews Hackathon. Mozilla partnered with Mozilla Hispano, the Buenos Aires Hacks/Hackers group and Blue Via for a day-long event on Friday, April 20, at the NH City & Tower Hotel in the heart of the city. The event featured short talks about HTML5 and friends, Javascript APIs, the Add-ons SDK, developer tools, and our newest offering: Apps and Persona.
Hacking on Mozilla Collusion at the Wall Street Journal Transparency Weekend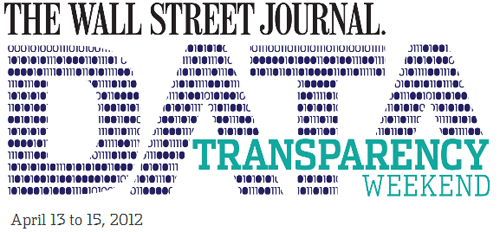 Is your smart phone leaking? That's the question this new "MobileScope" mobile app helps you answer, which won WSJ's Transparency Weekend "Ready for Primetime" award. There was also lots of exciting new developments on the Mozilla Collusion front — we'll get a more detailed report back from Gunner in Tuesday's call.
Next week: make and build with us