Cross-posted from the Mozilla blog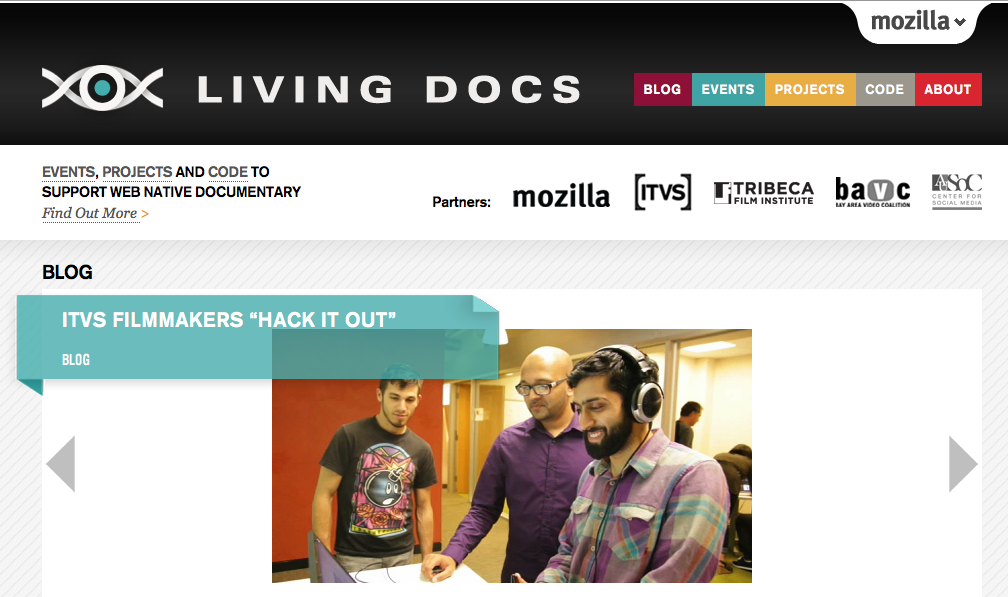 Mozilla is partnering with the world's leaders in documentary film to launch The Living Docs Project. The partnership will produce events, projects and code aimed at revolutionizing Web-based documentaries, using the power of new open Web tools like Mozilla Popcorn to create new ways of telling stories online.
Living Docs is a partnership between Mozilla, The Tribeca Film Institute, The Center for Social Media at American University, ITVS and BAVC. The Tribeca Film Institute is one of the world's leading funders of interactive documentaries.
Filmmakers and developers changing the face of storytelling
Living Docs films will apply the "hacker spirit" of open innovation to the world of documentary, using open Web technology, sharing code and resources, and releasing new iterations early and often.
"This is about the evolution of the documentary genre," said Mozilla's Brett Gaylor. "We're bringing filmmakers and developers together to tell stories in ways that have never been attempted before."
"As storytelling enters the 21st Century, we are inspired by Mozilla's open-source ethos of collaboration, constant learning, and iteration," said ITVS. "These new ways of working require new skills, new teams, and new aesthetics."
Living Docs Hack Day from Brett Gaylor on Vimeo.
Hot Docs hackathon
The first Living Docs hackathon will pair web developers and documentary filmmakers at the upcoming Hot Docs film festival in Toronto. The project is now seeking filmmakers with interactive projects to participate in the two-day sprint, which will be held April 28 and 29 at Mozilla Toronto.
Learn more