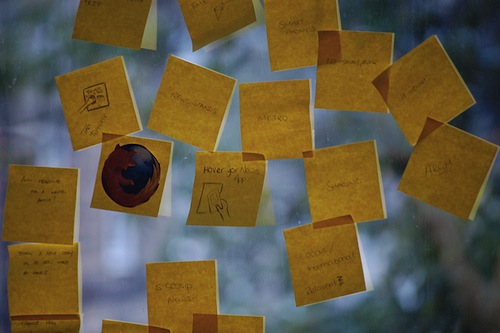 Working open… every week
I'm excited by how our Mozilla Webmaker calls are evolving. Most meetings tend to suck. This one increasingly doesn't, in large part because we're committed to sprinting together in etherpad instead of just passively listening to others talk. As our team grows rapidly, we have the dual necessity of both increasing participation and co-ordinating effort, to avoid left-hand vs. right-hand issues. We've got a ways to go, but having a look at the etherpad each week provides a decent (albeit blurry) snapshot of what the heck is up.
Notes and audio recording from the Feb 7 call
This post provides a quick summary of what we're working on right now, as outlined in today's call.
What's on our radar this week?
Mozilla Popcorn: Vision & Roadmap
Got a sneak preview at some new slides and roadmap for Mozilla Popcorn today. Outstanding presentation from Ben Moskowtiz, Brett Gaylor and the Popcorn team. Not yet ready for wide sharing — look for a blog post and tweets on this soon.
Mozilla Learning Team Roadmap
What specific skills do we need to teach to create a generation of webmakers? How do we get there?
Re-designing the OpenBadges.org site
Mozilla's Open Badges project is going to get a more robust online home. Blog post and preliminary wireframes are here.

Hive Toronto:  Hackjam for youth
Happening in the Mozilla Toronto office February 18th, from 1 pm – 4:30 pm. Heather Payne is working with others to hone the event plan. Registration is here. 54 people already registered so far (24 kids, 16 parents, 14 volunteers). Aiming for 60-75 kids to register total.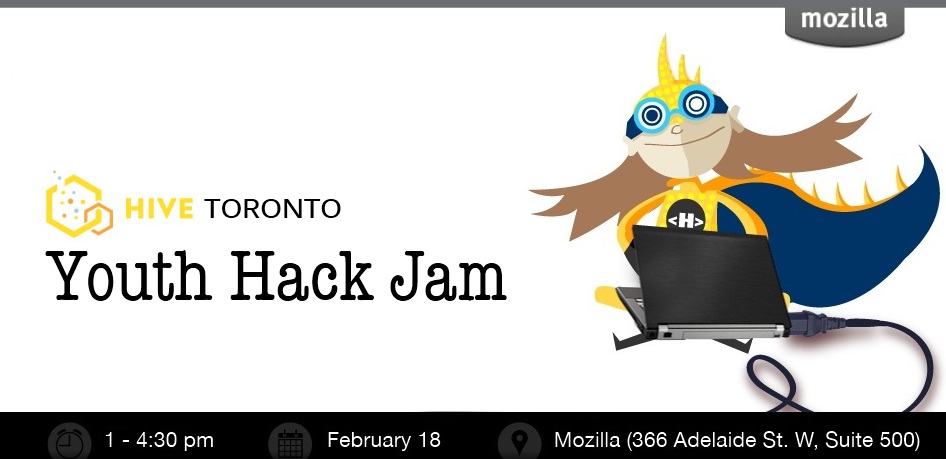 Data Journalism Handbook: version 1.0 coming soon
The Data Journalism Handbook was born at November's Mozilla Festival in London. They're aiming to have a version 1.0 done by the end of February. Learn more and get involved here. Or re-tweet something like this to help spread the word:
Final call for contributions for the Data Journalism Handbook v 0.1 ow.ly/8THez . Help to finish it by end of Feb! #ddjbook #ddj
How do we make it easier for webmakers to host their own events?
Ben Simon and Michelle Thorne have outlined thinking and proposals in a pair of blog posts. Are these the right features? Are we missing any?

Awesome blog post and visual storytelling on Collusion
Who's watching the watchers? Don't miss this inspired post and comic-style explanation of  Collusion.

Shout out to Pat Imlay and Open Attribute
Shout Out to Pat Lockley who continues to update the Open Attribute plugins. It's attribution made ridiculously simple. Updated plugins for Firefox, Chrome, WordPress, Drupal, Opera.