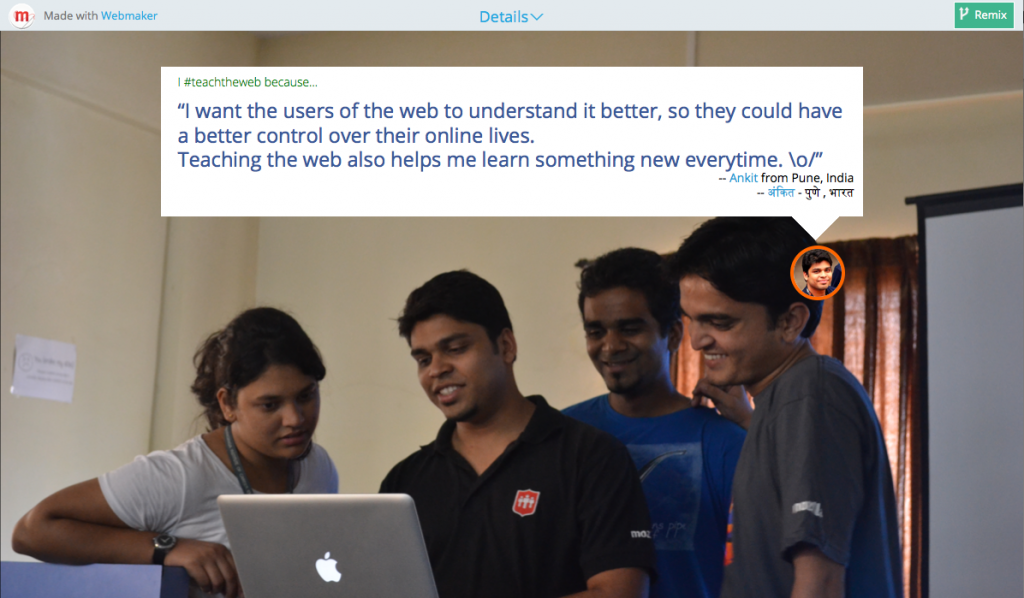 What inspires you to teach the web? We asked Webmaker community members for their answers — then invited them to share their stories using this remixable Webmaker template. What's your story? We'd love for you to make and then share your own using the #teachtheweb hashtag on Twitter.

I want users of the web to understand it better, so they can have better control over their online lives. Teaching the web also helps me learn something new every time.
Ankit is a Master's student in Computer Science, Webmaker Mentor and Mozilla Rep.
I love sharing knowledge and skills. I'm always very happy every time I see the cheerful, enthusiastic faces of young people when they teach and learn the web.
Yoe One is a student in System Information, blogger and journalist.
The future should be something our kids can make for themselves rather than have to buy or go without.
Chad is a language arts teacher, National Writing Project teacher consultant and connected learning ambassador.

I want to empower everyone to become the makers of the web that we as citizens of the world need.
Ibraahiima has organized Maker Parties in Normandy, France and is passionate about translation, language teaching and flying.
[Webmaker tools] channel the playful anarchy of punk hacktivists and opens up their methods so everyone can remix the web and share the results with one another.
Stephen Fortune is a interactive media artist and  visiting research student at the Centre for Cultural Studies in Goldsmiths University.
I teach the web because a teacher once said to me, "I can't learn that."
Jeannie is the Manager of Digital Media & Learning at Bank Street College of Education, and loves teaching about "Hip Hop, Remix & Political Discourse."
Your turn
Why do *you* teach the web? Hit the "remix" button to make and share.