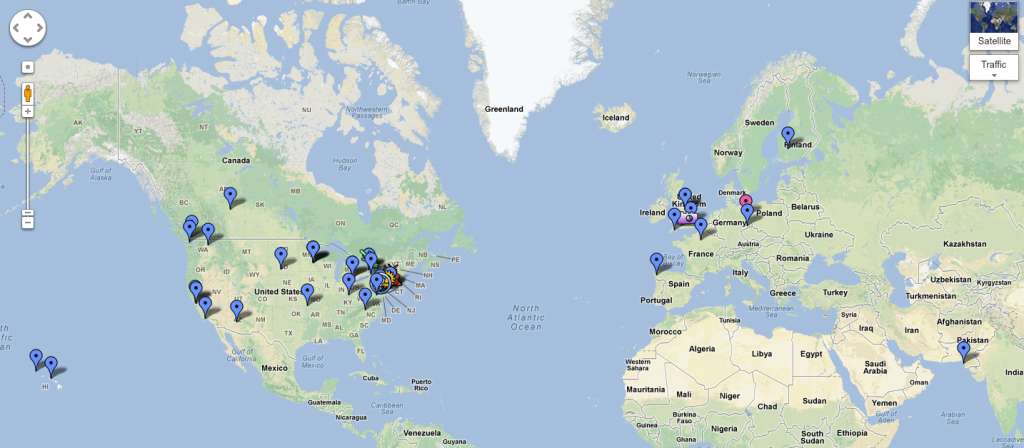 Students today enjoy the connectedness of social networking; it is part of their very being. My goal is to bring my instruction into that cloud to teach the content required in ways that inspire online responsibility and ethics in this new, very public world. —Sheri, Middle School Educator and "Geeky Gramma"
My goal in participating in this MOOC is to shift my paradigm from one of "using" things to one of "creating" things. The power and importance of creativity has been identified as something that we are born with, and over the years as we are "educated" we seem to lose the skill, or the motivation to create. — participant, Doug Walters
With Mozilla's Maker Party 2013 — kicking off June 15 to Sep 15 — we want to grow a global movement. As Mark Surman puts it in a blog post coming next week:
The mentors and local champions who will step up to organize the Mozilla Maker Party are just like the early evangelists who helped Firefox get to 500 million users. It's these people who will show the first million Webmakers what they can make. Who will start awarding badges that reward people for their skill and creativity on the web. And who will create excitement about all the tools and programs across the web the empower people to make and create.

These mentors and local champions are the core leaders that Mozilla needs if we want to teach the world the web.
I do web programming myself but I do not have prior experience of how to teach it to other other people. —Pekka


From Michelle Thorne's blog:
To start, we invited participants to iIntroduce yourself Webmaker style by using Popcorn Maker, Thimble or the X-Ray Goggles and share your make with #teachtheweb.
Already there are loads of great hacks from the community. And in this way, people both learn how to use the tools and mess around with code, and they can also express themselves creatively while getting to know one another.
Mozilla wants us to take the web to the next level by teaching people about web! All I want to say is just follow the people who contribute to what you like.Magic happens. —Vivek
Study Groups
Study groups are formed based on:
Ideally, I'm hoping that the course will encourage me to think about ways I can have my own students write the web and I hope to be able to gather a better sense of what that means. I think that this type of creation lends itself very nicely with the English classroom and I look forward to having resources in my class to be able to experiment next year. — Joel Malley
Training the trainers
As Michelle Thorne points out, the people that really make all this run are the Webmaker Super Mentors. These are passionate people experienced in teaching the web, running events and/or creating teaching materials who are
shaping the course each week by developing and giving feedback on the curriculum
leading study groups and surfacing great makes and conversations for the larger group
being warm and friendly faces in the course
Simplification is key, as is emphasizing how the experience is flexible and adaptable to participants' needs. I'm also keen to learn from legendary MOOC facilitators like Philipp Schmidt and Mitch Resnick from MIT's Learning Creative Learning and other online learning experiences like #etmooc. — Michelle Thorne
best blog post so far:
http://nerism.tumblr.com/post/49477297624/what-kind-of-thinking-is-involved-when-you-make Sasha Neri
"I'm not much of a maker in the third dimension. Sure, I've toyed with some things. I've put together Ikea furniture, made meals, sketched/painted on paper and walls, cut and pasted (with scissors & glue) type at a printing press, cut and dyed my own hair, and struggled and failed to create sentences that would bring people to their knees.
The machines began their rise as I was leaving adolescence, and due to such perfect timing, I've probably spent more hours late at night trying to figure out why a table or div wasn't rendering the way I had envisioned in Firefox, or trying a new combination of duotones in Photoshop, or taking yet another picture of a flower just so.
There's really no reason for such a dichotomous view though. Whether the project involved scissors, code, temperas, or zucchini, we begin with an idea, in my case it is almost always an image, and then we begin orchestrating the steps to putting that image together. We add color, we remove distractions, we re-position shapes, we lightly survey for opinions, we re-align our intention, we backspace, we copy and paste, we try and we try again.
My making comes from an open, curious space. Looking back, rarely is the end-result as I pictured from the beginning, and that never feels like failure."